Who Are We?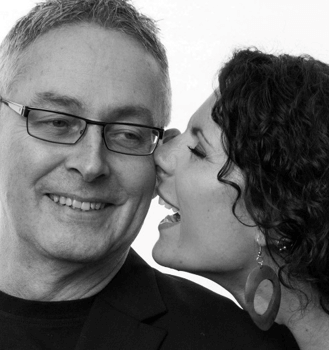 For almost fifteen years, our parent company, Sayer Hamilton Ltd, was a thriving two-person business supplying the voices of Phil Sayer and Elinor Hamilton for all kinds of projects, from train announcements to corporate videos, and everything in between.
Our clients were happy with the service we provided, and as a male and female working together, we were able to give them pretty much everything they needed. We didn't even argue very often, despite working in the same room as each other for fourteen years straight.
Sadly, Phil died from oesophageal cancer in April 2016, but being the consummate professional that he was, not before leaving Ellie a list of his favourite "Phil-alikes" so that no clients would be left in the lurch. However, some clients (quite understandably) didn't always feel able to contact a grieving widow for a voice that sounded a bit like her husband, so many quietly wandered off to find their own voiceovers… with limited success. Since then, most have come back to ask for alternatives, which we've been happy to provide.
Most voiceovers work alone, from home. We're a modern cottage industry. But if a voiceover is unavailable, clients usually have to wait, and in the corporate world they often can't afford to. This is where eLearningVoices.co.uk comes in. We're not just one or two people working from a home office any more. We're a large team of associates, all of whom know the industry inside out, so your emails will always be answered, and your project will always be fulfilled, quickly and professionally, no matter what life throws at the humans behind the voices.
We supply the best voiceovers for your e-learning project, who are available full time. They've been hand-picked for speed of supply, studio sound quality, and general loveliness. They also assure us that they're in the best of health (for now). They're people we know we can trust to make sense of the audio, so the need for corrections will be rare – but if you need some, they'll be able to sort it pretty quickly. Of course, everyone gets sick or takes a holiday every now and again, but by keeping our roster of available voices small and tight, and because we know the industry (as well as the best people in it) inside out, we'll always be able to find a good soundalike if one of our core people isn't available.
This means that your e-learning project will be delivered perfectly, professionally, and on time. Not even laryngitis can stop us. Oh yes, and since you ask, many of our British male voices are the very ones that were hand-picked by Phil.